Email engagement at All Creatures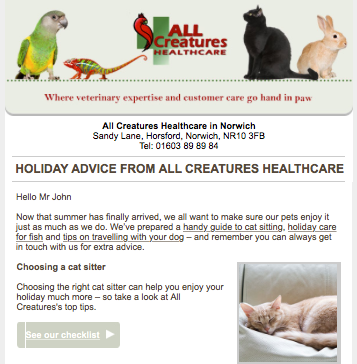 How to drive more business from existing clients
A great opportunity to explore when hunting for new turnover is the one presented by encouraging existing clients to avail themselves of more of your services more often.
Many of the vets we work with soon come to realise that email can be one of the most cost efficient and effective mechanisims to drive extra footfall from existing clients. Connected Vet clients All Creatures vets in Horsford, Norwich is a great example of a practice that has benefited from investing in regular outbound email communications to their clients.
They came on board in 2015 and now actively communicate with the majority of their clients on a month to month basis about everything from tapeworms to travel and rabbit care to how to feed fish.
The service – monthly news and email
At the core of what Connected Vet does is content marketing. At the core of our Content Marketing efforts is our news and email service. We add three news stories a moth to All Creatures' website followed up by an email to drive their clients to read those stories.
Each month prospective clients sign up to receive what the practice calls its 'Petcare news service' and whilst not all of these people become clients, it's definitely a new business opportunity.
The results
Output
A website that's always kept up to date with timely, relevant and interesting seasonal news
Regular (monthly) emails to existing client base and new sign ups
Outcome
A 19% increase in the number of email subscribers since the service launched
A 25% increase in engagement with the emails sent. Clients are increasingly interested in the content on offer
All Creatures emails will land in clients inboxes 17-20,000 times over the next 12 months
Over 20% of traffic driven to All Creatures' website comes from email
If you'd like to see how up to date news and regular email communication can help your practice why not drop us a line.