Albavet grew web visits by 68%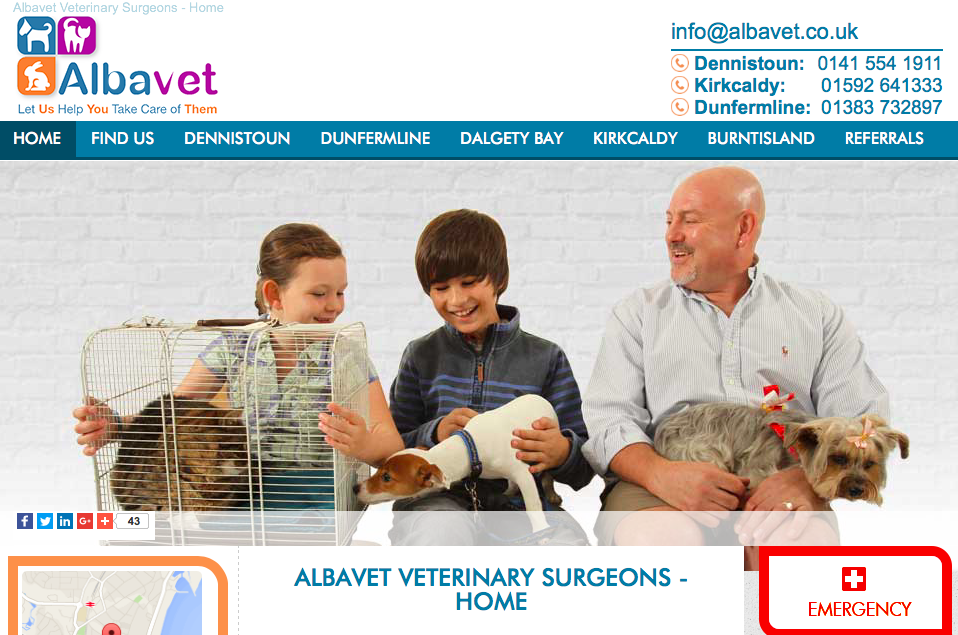 How to drive more people to your website
If you're not all over 'digital' like a rash then driving new traffic to your website can be a bit hit and miss. However, with the right help, a realistic investment in growing visitors to your website can be made to work hard and deliver year on year growth in traffic.
The Albavet group in Fife, Scotland was in need of just such support when this story began in 2013. Head vet of the five surgery practice Graham Dodds inherited a role with enough operational challenges to keep him busy, so Connected Vet were asked to 'Bring the website up to date and get more hits.'
Now Graham was no slouch when it came to marketing and had already briefed a trusted local designer to refresh the businesses brand identity with new logo, signage & general look and feel. All we had to do was create a new website and double the people visiting it.
The project – a digital overhaul for Albavet
From the admittedly low base of the existing HIBU website, Connected Vet deployed their Ceruim Multi Location Platform to create five individual websites for Albavet (for the cost of about one and a half sites)
See how Cerium works for multi-location practices
Our approach employed (and still employs) the latest content marketing techniques to support traffic generation from natural search as well as paid, direct and referral channels. Let's get that in English for you… We created a great looking website and filled it with the kind of content people wanted to engage with. We then grew traffic from all channels.
Natural search – More prospective clients found the practice on Google
Direct traffic – More existing clients clicked to the site from emails we sent them
Referral traffic – More prospective clients came to the site from links we put on third party websites and directories
Paid traffic – More prospective clients (per £ invested in Google PPC) visited the site from online adverts
The key to leveraging this client's investment was delivering value for money via a better strategy for building a multi surgery website and a more enlightened approach to long term traffic driving by properly managing the businesses 'cost per click'.
The results
Outputs
A great looking, hard working website (well seven actually) at an amazing level of investment of under £1,000 per site
Outcomes
Website traffic grew from 18,007 visits in 2014 to 30,303 visits in 2015
Better return on marketing investment in all channels – for example Albavet's Cost Per Click fell from over £2 to around 80 pence under Connected Vet
A very happy client who said;
"Connected Vet have been an integral part of Albavet's marketing strategy for 2-3years now. They have helped significantly improve our online and real-world marketing campaigns and they have always been accessible, helpful, interested and timely with deadlines.
With specific regards to the website, and newsletter emails, we have had fantastic feedback from our clients and the stats that Connected Vet report show an increase in traffic to our website as a result, with campaigns leading to increased footfall. It works wonders for PR and the fact that it is branded to suit your business makes a big professional impact.
Personally, I have had no complaints about Connected Vet and I am pleased with what they have done for our practices."
Graham Dodds
Head Vet, Albavet Veterinary Hospital